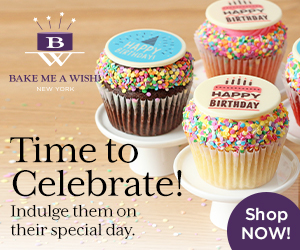 Bake Me A Wish - Gourmet gift & birthday cakes
Our gourmet gift cakes, baked exclusively in our award-winning New York bakery, can be sent nationwide and are guaranteed to arrive on the date you request.
Each cake or cupcake delivery you order online arrives in an elegant gift box and includes a greeting card on which you can provide a personal message to your recipient. With a variety of occasions to choose from, you can make your loved one's next birthday, anniversary, holiday or event an occasion to remember by sending a gourmet cake from Bake Me A Wish!
15% off everything - all cakes, cupcakes, Gifts & More with the code XOXO. Valid through 3/1. Delivered at home or work - just click on the "Buy Now!" button below.

Use code see above
Email us if you require an updated code - they change at the end of each month.