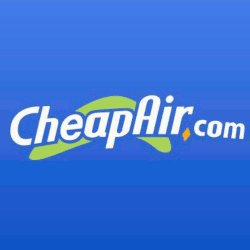 Cheap Air
Our airfare shopping engine does all the work for you, using a proprietary algorithm that scours the web for the lowest prices on the planet. Proprietoowha algo-what? That's just a fancy way of saying we use smart, complicated technology to show you fares in a simple, easy to navigate site designed to bring some joy to your trip planning. With time leftover to actually travel.
Want a flight from Osh Kosh to Kalamazoo that has Wi-Fi and live TV? We'll find it. Need to fly out on one airline and back home on another? No problem. Our innovative features like flight amenity listings, mix and match airline recommends, and, everyone's favorite–Price Drop.
$10 off on a flight to a different destination each week. Popular destinations like Orlando, Key West, and Cancun at discounted prices.

Fly Now, Pay Later at CheapAir.com! Starting at 0% APR see if you qualify

. Click on the "MORE DETAILS" button below.

>> With Cheap Air's exclusive Price Drop Payback book with confidence. If fares drop after buying, we'll credit you the difference
Up to 2.4% cash back on purchased flights and regular weekly specials featuring an additional $10 off to select destinations

For cash back on purchases, click on the cash back button above. Sign up or log in on our Benefit Hub website and receive cash back on this and future purchases.