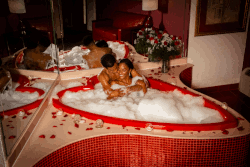 A bit More about the resorts in the Getaway Club:

Cove Haven Resort is a relaxing retreat located on the shores of Lake Wallenpaupack and offers something for everyone. From the Luxurious Suites to the majestic surroundings and big-time entertainment, you'll find everything you need and more to make the most of your stay at our Pocono Resort in the beautiful Pocono Mountains.

Cove Haven Resort is located on the shores of Pennsylvania's largest man-made lake, Lake Wallenpaupack. The ultimate retreat for relaxation, Cove Haven Resort is a place where you can enjoy the best amenities of a world-class Destination Resort.

Winter activities include a 4 lane snow tubing chutes with lift, outdoor ice skating rink, fire pits with hot beverages and cocktails, snow shoeing, cross country skiing and more!

Paradise Stream Resort is a modern oasis located in the heart of the Poconos. Each suite is custom designed with a private pool and roaring fireplace.

Now, consider days full of indoor and outdoor activities, like tennis, archery, fishing, cycling and nature trails. Outlet shopping, canoeing, skiing, water parks, antiques and a casino are just minutes away. Luxurious fun and relaxation awaits at Paradise Stream Resort.

In the evening, take advantage of our world-class fare with free hors d'oeuvres at our Garden Party and delectable dining in our restaurant. After dinner, join us in the Lounge and Nightclub for live nightly entertainment.

With its beautiful country club atmosphere, Pocono Palace combines an endless array of activities and sports with the ultimate accommodations—our unique and famous Roman Tower and Fantasy Apple suites (exclusive to Pocono Palace).

Winter offers snowmobiling, cross-country skiing, and many other activities and sports to keep you active throughout your stay. Escaping in the summer? Serve it up on the tennis courts, or head down to the lake for a speedboat or paddleboat ride, waterskiing or fishing.

Golf lovers will enjoy the putting green, driving range and 9-hole regulation golf course (nominal fee applies). Stop by the pro shop for supplies, pointers or lessons.