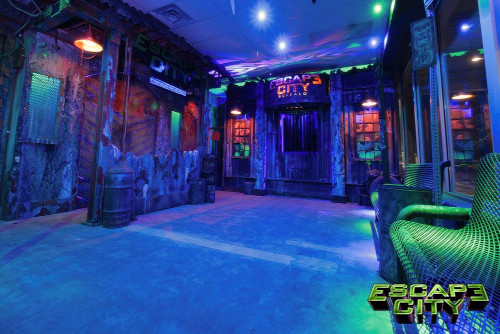 Escape City Buffalo
Ever wonder what it's like to live out a movie? Escape City is Buffalo's best live-action escape room games where you must find your way out. Work your way through the Hollywood quality sets, find the clues, solve the puzzles and escape through the secret passages before the clock runs out!
Featuring several differently themed game rooms:
Over the Falls: Canadian pirates have seized your old cargo ship on a voyage across the Mighty Niagara River. After stealing the goods, the pirates abandon ship and send you barreling towards Niagara Falls. You have exactly 60 minutes to escape before you go OVER THE FALLS.

The Body Collectors: The BODY COLLECTORS have selected you to be a part of their twisted games. Can you prove that you are worthy to live your life? Or will you become another piece of their ever-growing collection?

The Hangover: After a wild night out in Las Vegas, you and your friends wake up in a hotel suite with no clue where you are or what happened. All you know is that you stole a lot of money from the Russian Mafia and they want it back NOW! You'll need to put the pieces together of what happened last night and escape before they come to collect!
Ongoing: mBB members save 10% when you book your reservation. At checkout, look for "Have a Code?" in the upper right hand portion of your checkout box. Enter the code MBBESCAPE. Applies to all in the group so it might be better than any special offer which is typically limited to just one code per group. Cannot be combined with other offers.
$20 off your escape room with a group of 4 or more with the code LABORDAY23! Only one code per group. May not be combined with other offers. Valid through September 30, 2023.

code MBBESCAPE