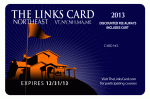 The Links Card (New England)
The Links Card has been the premier golf discount membership program in New England for over 20 years!
Save up to $20 per links Card Partner membership.
The Links Card offers our members even greater opportunity to play discounted rounds at over 130 of the top courses in NH, ME, VT, MA & NY, and the fee you pay always includes the cart.
As a Links Card holder you can save thousands of dollars in green fees and play multiple rounds at each course. Save your family members, co-workers, or even your golf partners money with each round they play. The Links Card is the perfect gift for golfers of all skill levels.