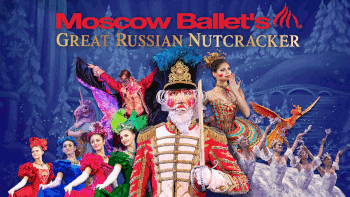 Moscow Ballet - The Great Russian Nutcracker
Because of the pandemic, the Moscow Ballet's Great Russian Nutcracker will be coming to you streaming in 2020 and you can once again save with mBB!
Go back to a simpler time and celebrate this Christmas tradition with the whole family! See Moscow Balletís Great Russian Nutcracker from the best seat in the house; your living room! Take this opportunity to spend quality time with loved ones and experience the smash-hit holiday. Featuring over 100 dancers from the Moscow region - see the YouTube promo.
The definitive Christmas streaming experience for Nutcracker fans and families around the world. Airing December 19 - January 1!
Purchase your stream in advance and you save 15% on all streaming packages with the promotion code MBB15
Regular stream $24.99 > $21.24

Gold Circle (includes a link to the stream and a LIVE Zoom Meet & Great with a Moscow Ballet dancer) $39.99 > $33.99 (email us if you're interested in this discount)

Platinum Package (includes a link to the stream, a LIVE Zoom Meet & Great with a Moscow Ballet dancer and a Nutcracker shipped to your door) $69.99 > $59.49 (email us if you're interested in this discount)

promotion code MBB15