Vivint
Don't just record crime, prevent it! mBB members enjoy savings on both doorbell cameras AND on complete security systems - all professionally installed.
Vivint Doorbell Camera
30-Day Home Trial: Try our doorbell camera worry-free for 30 days. If you're not completely satisfied, call us for a full refund on your order. For new customers only.
Unlike other video doorbell cameras, the Doorbell Camera Pro's exclusive 180° x 180° field of view allows you to see the faces of tall visitors and packages right under the doorbell at the same time. It's the most expansive view available.
Best of all, you save a bundle. Regularly $249 professionally installed, you save 28% - only $179.99. But there's more. See below.
Plus as a my Better Member, an additional 10% will be deducted at checkout - an additional $17.99 off! It should be automatically applied when you click on the "View Deal" button below, but should the 10% not appear, use the promo code MYBETTERBENEFITS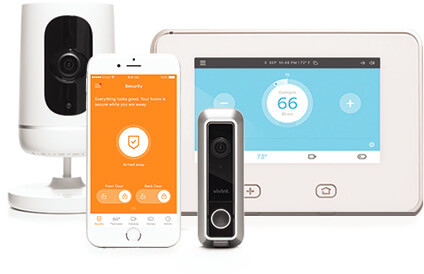 Vivint Complete Home Security System
Need more than just a doorbell camera? Vivint has you covered.
With the Vivint system, everything works together. You can control your devices from anywhere on one app. And with 24/7 monitoring and support, your home and family are always protected.
For my Better Benefits members, you can get a $50 gift card PLUS have your system professionally installed when you use the code MBB50. Details when you click on the "view offer" button below. Offer valid through 12/31/21.

promo code MBB50