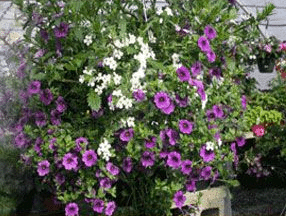 Farm Market Discounts
ONGOING: mBB members receive a 10% discount at:

Fish's greenhouses and pick-your-own strawberry fields located at 4494 Mt. Payne Road, Shortsville

And at our roadside stands located at:
CSA (Community Supported Agriculture)
You can also save when you purchase shares in
Fish Farm Market's CSA
- a $600 investment returns around $1,000 in produce over the seasons (
more info. on Fish's CSA program here)
The discount for mBB members is $25 off the annual fee of either a half or full share. The regular cost for a full share is $600, mBB members only pay $575. The half shares are $350 and MBB members pay only $325

To obtain your CSA discount from Fish Farm Market:

Indicate you are an mBB Member (it's right on the form)

and enter the code MBB2018
A bit more about Fish's Farm Market & CSA . . .

CSA stands for Community Supported Agriculture, which is relatively new concept in the United States that has really taken off. There are well over 1,000 CSA farms now operating here and it all started with just one back in 1986 - current pricing info. here.
The idea is simple: members buy a "share" in the local farm for the season. Shares are paid for in advance, usually by sometime in May, and the members then get access to a portion of the farmers' harvest from June into November.
Fish's Farm Market kicked off their CSA program last year and it was so well received by the people who participated that the market has decided to offer free delivery to any company with ten or more memberships.
The CSA program at Fish's Farm Market is an excellent way to promote employee wellness! Members enjoy significant cost savings over retail, one stop convenience, the chance to try a variety of new vegetables and the peace of mind their produce is grown locally by a five generation family farm committed to the safest agricultural practices possible. We grow a wide variety of crops so each delivery is an eye pleasing combination of fresh vegetables sure to please any family! Our 2013 members were so impressed with the value and variety we had a 100% re-enroll for the 2014 season and many of their friends and family have decided to join as well!
As our membership continues to grow, it is imperative we have new members in place and paid before March 31st. This allows for better crop planning and helps to keep costs down. The more efficient the process the better the value!
Great-tasting, locally grown, fresh fruits and vegetables at a price well below retail are the most obvious benefits of being a CSA member. Because you are buying directly from the farmer, you can choose vegetable varieties for taste rather than how they ship, pack, and look on store shelves.
Choosing to eat fresh, local fruits and vegetables contributes to good health and peace of mind knowing that your food is safe because it's grown using sound farming practice. Fish's Farm Market is "GAPS" certified. This means we are inspected twice per season by the Department of Agriculture and Markets for safe food handling. You can rest assured that your food will be delivered to you safely and pesticide-residue free.
Becoming a CSA member also plays an important role in the local rural economy…. helping to keep small farms small farms: not small subdivisions. Your entire food dollar goes directly to the farmer and is not divided between fuel companies, freight lines, and large produce distributors. You will see the difference this makes starting with your first distributions.
What sets Fish Farm Market apart from other CSA's? We are a FIVE GENERATION produce farm. We are experienced professionals and proud of the product we produce. We have been a major supplier for Wegman's Supermarkets for over 20 years. Most of the sweet corn we grow is gourmet sweet varieties. You will not find corn this sweet and tender anywhere! Your share will include a good supply of our gourmet sweet corn every week once it is ready.
The good news for you is: because we are in the CSA transitioning stage, we will be able to accept at least 100 new members this year! Please don't hesitate to sign up! There is still plenty of planning to do as far as scheduling and drop off points. As times are changing, fuel, labor and input costs continue to skyrocket. We must all adapt. We welcome the opportunity to work with you for many years to come. Thank you for your support.
WHAT DOES MY SHARE INCLUDE?
Your share will include a variety of fresh-picked vegetables each week. The variety and amount will vary throughout the growing season but is normally 5-15 pounds per week (or more) as product becomes available. A full share would be geared toward a family of 3-4 people. A half-share would be more suited to a family of 2. To ease in the preparation each week, we would prefer to sell only full shares. If you fell that you only need a half-share, maybe you have a friend of family member that would be willing to split it with you?
WHAT TYPES OF VEGETABLES CAN I EXPECT TO RECEIVE?
We grow a large variety of produce sure to please the veggie-lover in you. Here are some varieties we offer: Gourmet sweet corn, Tomatoes (Regular, Roma, and a few heirloom), Potatoes, Onions, Sweet Peppers, Hot Peppers (15 varieties), Yellow Squash, Green Squash, Cucumbers, Melons, Cabbage (Red and Green), Cauliflower, Broccoli, Brussels Sprouts, Eggplant, Winter Squash (9 varieties), and Pie Pumpkins. We will likely be adding new crops as we get suggestions from our members. Let us know what you like. If there is enough interest from the other members, we will add it.
We will also be offering the following as U-PICK items only: Strawberries and Pumpkins. Snow Peas, Sugar-snap and Regular Peas will be available for U-PICK next season.
WHAT ABOUT FRUITS?
We will also offer a separate fruit share for those who wish to have a weekly share of fruit. We plan to offer 2-4 fruits per week which will differ from week to week. You may find a combination of apples, peaches, and plums one week and then pears, grapes, and melons the next. Some weeks there may be just one variety of fruit offered and the next week there may be two or three varieties depending on seasonal available. The fruit shares will start in July and run through September (or early October).
HOW DOES U-PICK WORK IN A CSA?
There will be a per-visit limit on how much you can take as part of your share. For example, let's say the limit is 3 pounds of strawberries per visit. You may pick as much as you like but only the 3 pounds will be considered your share. You would have to pay the regular U-PICK price for any additional berries you pick that day.
WHAT ELSE CAN I EXPECT IN MY SHARE?
There will be some non-edible, decorative product included in your share also! Your share will include Gourds, Mini-Pumpkins, and Indian Corn.
GREENHOUSES
We are also offering (to CSA members only) a buy-in to our greenhouses. There is a BONUS discount for CSA members. The greenhouse buy-in includes flowers, bedding plants, mulch, and hanging baskets. The bigger the package you choose, the bigger your discount is. This is just another way that Fish Farm Market offers our customers VALUE FOR YOUR DOLLAR.
Fish's Farm Market
4494 Mt. Payne Road
Shortsville, NY 14548
Tel #: (585) 289-4215

The mBB web site contest is open to mBB members only. For information on membership, click here.