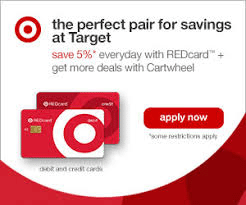 Target.com
See weekly time sensitive specials with coupon codes below.
Clothing for men, women, juniors, children, and babies. Furniture, household items, electronics, and gifts. All at great prices.
*If it applies to the materials you are purchasing, this discount is automatically applied when you click on the "more" button at right. Note that the dates continuously update for this offer.
All you need to do is click on

the "more" button at right, the link below, or on the Target bullseye you see to your left.
When you are ready to check out and after you enter your credit card information but before you verify your order (last step), you'll see the discount applied as a "promotion" as follows:
Items:
$79.99
Shipping & Handling:
$0.00
Promotion Applied:

-$7.00

Total Before Tax:
$72.99
Estimated Tax:*
$6.00
Order Total: $78.99
TARGET TIME SENSITIVE SPECIALS:
Additional time sensitive savings & Promo codes - coupon codes may be applied in addition to the above savings if applicable - if it's a direct link, that's the only discount you'll get (not the $7 of $70 as well).
To apply any of the below offers to the $7 off $70 promotion, click on the "more" button at right and then search for the promotion below on Target's site. Clicking directly on one of the links below will not enable the $7 off $70 to be applied (the $7 off $70 is a direct link that is only applied when you click on the link above or one of the "more" buttons at right).
Other discounts, where coupon codes are not present, may allow for the $7 off $70 promotion in addition to the savings below. REMEMBER, ship to the store for pickup and you avoid any shipping charges where they might exist:
*Note the exclusions in the discount window. Merchandise subtotal based on one shipping destination per order. May not be combined with other promotional codes or discounts applied to previous orders. $7 off $70 offer excludes: Electronics, Digital Photo Frames, Toys, Baby Diapers, Baby Toiletries, Baby Food & Formula, Men's Shavers & Grooming Products, Movies, Music, Books, Clearance Items, Grocery & Essential Items, Target Gift Cards and Specialty Gift Cards and Limited Time Design Collections and Collaborations.
** We hate caveats but we need to add one here. We are unable to change the language in the promotion above per Target.com. We will tell you, however, that not all items include free shipping. When you add items to your cart, you will note that if shipping is free, it will be prominently displayed as such in your checkout cart. We've found that some heavy items that are also inexpensive (like metal bed frames) do not include free shipping (though the $7 off still applies). We want to make you aware of this in advance. Target.com will not respond to complaints or queries regarding this matter (believe me we've tried). Just be careful in placing your order and be aware of what the charges are when you confirm your sale.
*** Target Return Policy: You can bring back Target's exclusive owned-brands, with receipt, to a Target store and receive a full refund within one year of the item's purchase date. The new return policy applies to over 70,000 items from all 32 private-label brands, like Merona, Nate Berkus, Liz Lange, Mossimo and Threshold, C9, Xhilaration and Chefmate. But that's not all ... guests using Target's Baby or Wedding Registries will now have up to a year from the registry event date to return or exchange items.