Wireless home music systems and HiFi music players. We can't say enough about the Sonos system. We utilize Sonos in the mBB offices and the quality and ease of use is unsurpassed.
* Sonos One SL $179

* Sonos One $199 (with microphone)

The Arc Premium smart soundbar for TV, movies, music, gaming, and more $799

Save up to $150 on Certified Sonos Refurbished Speakers at Sonos.com

Sonos.com offers Free Shipping on all Sonos Wireless Music Players

Up to $50 off One and Play 1 speakers (offers vary by time frame).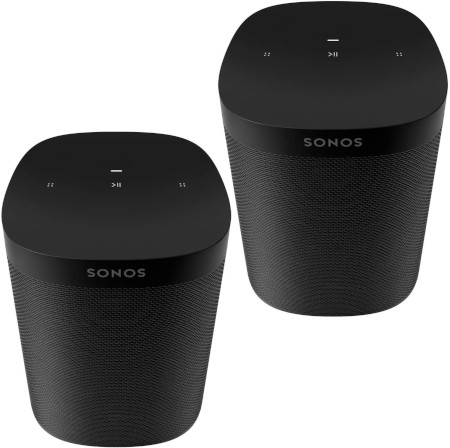 We encourage you to read the reviews - MacWorld, Rolling Stone, The New York Times - all give the system rave reviews for both the sound and flexibility of the system. Sonos was given the CNET Editor's Choice Award and the Sonos ZonePlayer S5 received a 5/5 Editor's Rating from BusinessWeek. The Sonos Wireless Music System lets you play any song, in any room and control it all wirelessly—from the palm of your hand.
First, you purchase wireless ZonePlayers for the rooms of your choice, starting at $179. Then, using either your computer, the Sonos Controller, an iPhone/Android phone with the free Sonos App installed, you are able to add music to every room of your house and every part of your life. You place the speakers anywhere you want near a power source and you connect wirelessly (or if you have the SONOS move, you don't even need a power source). From that point on, your playlist on your device (MAC/PC, IPad, Iphone or Android systems) is accessible anywhere you place the speaker(s).
Sonos gives instant access to millions of songs and stations — including music libraries like iTunes that are stored on your computer, thousands of free Internet radio stations, and the most popular online music services, like Pandora. The mBB office has several SONOS speakers. We love our SONOS!
The Sonos system allows you to:
Wirelessly manage all your music

Create playlists for anywhere in your home

Organize everything you listen to in one place

Individually control the volume in every room