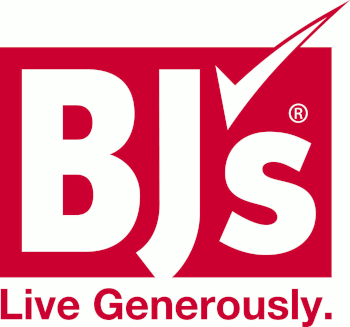 BJ's Wholesale Club
BJ's Wholesale Club operates 210+ clubs in 15 states along the east coast from Maine to Florida and mBB members can enjoy a discount on BJ's membership at any BJ's Club nationwide. See below.
PLEASE NOTE: This discount is NOT available in BJ's stores. It is available and you may only apply for it during a THREE WEEK time span once each quarter through the links below. Jan 1 - 21, Apr 1 - 21, July 1-21, and Oct 1 - 21. Applications will not be accepted at other times.
mBB members can enroll as a new or renewing member quarterly. Anytime during the first three weeks of January, April, July, or October, mBB members may enroll or renew their memberships by clicking on the links below and receive:
NEW MEMBERS - this is a great NEW member offer:

New Basic membership - $25 plus tax =$27.00, 12 months, 2 cards

New Rewards membership - $50 plus tax = $54.00, 12 months, 2 cards

New members will receive an email with their membership # that you may take to your local BJ's membership desk to have your membership cards processed.

RENEWING MEMBERS (for 2022):

Basic renewal $55 plus tax = $59.40, 12 months, 2 cards, plus you receive $20 rewards at the register on next visit at club ($20 off next purchase)

Rewards renewal $110 plus tax= $118.80, 12 months, 2 cards, plus you receive $30 rewards at the register on next visit at club ($30 off next purchase)

NOTE: Rewards $$ are loaded onto your BJs card and are available 24 hours after date of renewal AT CHECKOUT. Rewards $$ are available for 45 days.
Download and complete the application below. Email your completed application to the BJ's rep noted on the flyer below along with your cc info. You may submit it by mail with a check but processing takes considerably longer that way.

This offer is not available now. It will be available again April 1.
After January 21, this offer will not be available again until April 1, 2022, so if you are currently a BJ's member and your membership expires before the middle of April 2022, renew NOW. Your membership will be extended from your current expiration date with no loss of benefits. If you would like to be reminded immediately prior to the offering going live again in January, please send us an email and, most importantly, make sure you sign up to receive our newsletter. The newsletter is where we post when this offer is available again.
Note if you're from outside of NY state, send an inquiry to Polly Majchrzak, pmajchrzak@bjs.com, before mailing the application so that the appropriate sales tax and total due can be calculated.
* This offer may not be combined with other offers, is not redeemable for cash, and is not available online or in-Club. Limit one per household. Photo identification required when applying for Membership.
This offer is also only available during the first three weeks of any quarter.