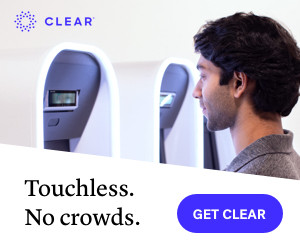 CLEAR Airport Security
As of 5/2, CLEAR has "paused" their program while they reevaluate their marketing strategy. Read into that what you will. What it reads to us is that this isn't a product to purchase at this time as sales are falling.
Faster. Safer. Touchless.

Join our nationwide network for touchless experiences at the airport, select venues, and beyond.

Start your easy, one-time enrollment online, then finish at a CLEAR location - no appointment necessary. All you need is a valid government-issued ID (make sure you use the same name below). Once you've completed your enrollment, you can use CLEAR right away!
In airports and other venues nationwide, CLEAR helps you travel safely with a fast, touchless experience – every time. Get CLEAR for only $149 and keep moving forward. Code: AFF149

In airports and other venues nationwide, CLEAR helps you travel safely with a fast, touchless experience – every time. Enjoy a 2-month free trial and keep moving forward. Code: 2FREE