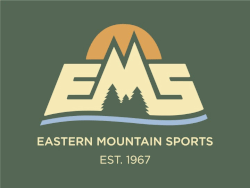 Eastern Mountain Sports
At Eastern Mountain Sports, we have a very simple reason for being: we're here to help you have more fun outside.

Top-quality outdoor gear and apparel you can depend on is just the beginning. Superior customer service through knowledgeable, credible and authentic expertise is what truly sets Eastern Mountain Sports apart.

We're fiercely proud of our New England heritage but we can help you enjoy better outdoor experiences anywhere in the world. It's what we've been doing every day since 1967 and it's what we plan on doing for many years to come – 100% satisfaction guaranteed.

20% off all clearance - automatically applied
TRAIL FORGED: Get up to 70% Off on Select Gear and Apparel at Eastern Mountain Sports! Shop NOW and Save!

Up to 50% off EMS Gear!

Get 40% Off Ski Helmets & Goggles at Eastern Mountain Sports! Shop ems.com Now. Click on the "more" button.
Get Free Shipping on Your North Face Order Over $48 at EMS.com