Entertainment Digital Memberships
The Entertainment Book is now entirely digital! And you can enjoy the Entertainment digital national edition - with hundreds of thousands of coupons for your location wherever you are, online. Entertainment Books are now entirely digital!
Specials vary by time frame and the pricing that you will see is the best discount available for your city or area at the time you order. You'll typically save at least 30% in your area and as much as 60% depending upon the time frame.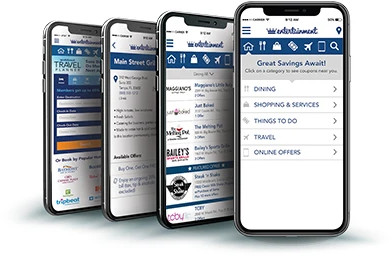 Entertainment Digital Editions
The Entertainment digital edition is packed with exclusive savings of up-to-50% off on everything you love to do. Choose your local city/area and discover the best features wherever you are. Show your phone to save in over 10,000 cities throughout the U.S. and Canada.
2022 Digital Memberships
Savings are with you you wherever you go!
Enjoy access to over 600,000 2-for-1 and up-to-50% discounts for one full year with the Entertainment Digital membership. Simply print online or show your phone to save at restaurants, family attractions, and more.
Select from thousands of coupons near you and nationwide with coverage in over 12,000 cities across the U.S. and Canada.
The mobile app sends alerts to your phone and email for coupons near you!

Books are available for locations nationwide and Canada. Rochester, Albany, Long Island, California, NYC, Orlando - you name it and you'll find a book for savings! Books now include a free mobile app that lets you show your phone to save in over 100 major cities throughout the US and Canada!
Digital Edition: In addition to the physical Entertainment Books, you may also purchase the Entertainment Digital Savings Membership at a reduced price - an online guide to the most popular restaurants, attractions, shopping, travel and more - all with values of up to 50% off and 2-for-1 offers. Saving is easy, no matter where you go. Your digital membership gives you nationwide access to 1,000s of money-saving local and national coupons, right on your phone or print online.
The Entertainment Digital Savings Membership® is your guide to the most popular restaurants, attractions, and more.
Up to 60% off brand new books in most major cities in the U.S. and Canada! Pricing will often be at least $10-$20 less than you'll find elsewhere. After the first of the year, the prices on books begin to decline and you can often get them for as little as $9.99 each in March/April and even less as the year progresses.
Register for free by clicking on the "more" button at right and receive:
New 50% off printable coupons not found in the book

Discounted movie tickets you can order online

50%-off savings at 5,000 hotels worldwide

Special savings from sites like FTD.com and The Sharper Image
Note that restaurant certificates are also offered by Restaurant.com. You can check their web site through our coupon link to see what restaurants participate in your area what the restrictions are on the certificate if any.