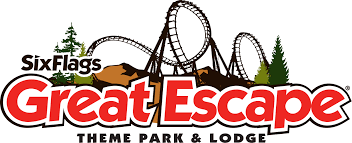 Six Flags Great Escape and Splashwater Kingdom, Lake George, NY
The Wiggles and a great water ride - Wild Wedgie! And of course, there's always Tornado where from atop a viewing platform 50 feet in the air, you'll get a bird's eye view of Splashwater Kingdom before boarding a four person cloverleaf shaped raft. Once aboard the raft, fun-seekers will plunge through a winding tunnel before blasting out into a 60-foot wide giant funnel, splashing back and forth on 5,000 gallons of water.
Amusement parks, water parks, sporting events, and other entertainment venues in NY State are in Phase 4 of the Governor's opening plans. We do not yet have a date for when this venue will open but it will likely be after July 1. Stay tuned.
2021 pricing
Good-any day ticket, $29.00 e-ticket online (pay and print) or paper ticket (must be shipped) when ordered direct from mBB. Regularly $59.99 + tax for adults You save up to 50%! Paper tickets have less handling fees and can be a less expensive alternative. E-tickets have an $8.99 per order plus $0.66 per ticket tax applied. It does not appear at this time that paper tickets will be available in 2021 - online only.

Meal Deal vouchers from and Picnic in the Park packages are also available online.

Parking passes - $15.00

Children 2 and under, free.
4 ticket purchase options for Good Any Day tickets (see season passes available through the e-ticket option only):

Option 1: E-tickets ordered directly from the park may be printed immediately or shown on your smart phone at the gate. They do, however, include sales tax plus a processing fee per order which makes them the most expensive though most convenient option. Taxes are $0.62 per ticket. The processing fee for a single ticket is $8.99 per order.

Option 2:

Tickets ordered from the mBB office online (with a credit card or via PayPal), also include no tax but do include S & H charges. They are mailed.

Options 3 & 4: Paper tickets are the least expensive - no additional taxes or online processing fees. They do have to be mailed, however, so allow time for mailing or request to pick them up at our office.

GOOD-ANY-DAY TICKETS
$29.00 + $0.51 tax per ticket + $8.99 per order processing fee

Presently not available

Presently not available

User name MBB2

Password SixFlags9

User name and password are both case sensitive

Tickets may be downloaded onto your phone or printed after purchase.

If you have problems with the above link, try this alternative for the Great Escape

Click on the "add to cart" above to order paper tickets from mBB and use a credit card (or PayPal). No sales tax & less processing fees than e-ticket option. These tickets will be mailed to you.
Your least expensive option - no sales tax.
Click on the image above for instructions.
Making a "Good Any Day" Reservation
Applies to all Six Flags parks nationwide:
Purchase your ticket(s) above;

Once you have your ticket # (we'll email you the ticket # if you order from us) but you will still need the paper ticket we send you so hold onto it when it arrives;

Go to: sixflags.com/reserve (this page will stay open for you to follow directions;

Choose MAKE A NEW RESERVATION;

Choose EXISTING TICKETS Make a Reservation;

Enter in the barcode ticket # from you ticket. Only one reservation is needed for the group but you will be required to enter the names and contact info. for each person in your group (for contact tracing);

Choose your date and time of your visit;

Proceed to check out;

Review and acknowledge the health & safety policy, digitally sign and agree;

Share your reservation voucher with the group. Each vehicle must present a reservation voucher to the parking attendant. The voucher can be printed or presented on your phone.