2019-20 World Tour information:
Offer subject to availability. All tickets and seat locations subject to availability. Offer not valid at venue box office.
Very important: Discounts are available up to 10 days before a game. Once you're in that ten day window, discounts no longer apply so order early.
The Globetrotters are appearing throughout the United States - from Anchorage, Alaska to San Diego, California to Bangor, Maine to Miami, Florida with stops everywhere in between.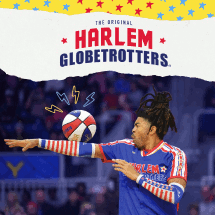 How to Purchase tickets:
It's very simple. Just call the Globetrotters at (678) 497-1900 to speak directly with a team representative and inquire about pricing and savings for the venue you are interested in. Selected locations (see below), may have special pricing available for gift certificates.
Here are just some of the many dates on the 2019-20 World Tour. Discounts for ALL Harlem Globetrotters shows AND their MAGIC PASS special events are available.
Selected L

ocations

Date(s)

How to order

All locations

Nov 2019 - May 2020

To avoid Ticket Master fees and receive discounts of up to 37%, call the Globetrotters directly at:

(678) 497-1900

Identify yourself as a my Better Benefits member

Tampa

Dec 7

Orlando

Dec 7

Daytona Beach

Dec 11

Fort Lauderdale

Dec

13

Boston

Dec 26

Pittsburgh

Dec 26

Uniondale

Dec 29

Newark

Dec 30

White Plains

Dec 31

Greenville, SC

Jan 4

San Francisco

Jan 11

San Jose

Jan 17 - 20

Atlanta

Jan 19

Elmira, NY

Feb 5

Binghamton, NY

Feb 6

Buffalo, NY

Feb 7 @ 7 PM

Call (678) 497-1900 for savings.

Rochester, NY

Feb 8 @ 2 PM

Call (678) 497-1900 for savings.

Albany, NY

Feb 9

Call (678) 497-1900 for regular savings. See below for special offer.

Glens Falls, NY

Feb 11

Lincroft, NJ

Feb 12 - 13

Hartford, CT

Feb 15

Houston, TX

Feb 15

Brooklyn, NY

Feb 16

NYC

Feb 17

Utica, NY

Feb 20

Bridgeport, CT

Feb 21
Feb 22

Dallas, TX

Feb 22

San Diego

Feb 23

Syracuse, NY

Feb 23
Call (678) 497-1900 for regular savings. See below for special offer.

Syracuse, NY

Sunday, Feb 23

@ 3 PM

Special Offer:

100-level passes at 50% off. Regularly $60 each, only $30 - very limited availability - Available directly from the mBB office. Price level P3 seat, regularly $60.00 each - see sections 104-107, 119-112, 205-206 & 219-221 (with fees, Ticket Master ticket prices come to over $80 each when ordered online).

We have 4 of these exchange passes available and they are sold in pairs of 2 only at 50% off! That's 2, $60.00 passes, $120 value for the donation of $60 or only $30.00 each

. You may order one pair (2 tickets) or both pairs (4 tickets) as available.

These are paper passes that will be mailed to you upon order completion. Passes must be physically exchanged for tickets at the Oncenter Arena Box Office.

Allentown, PA

Feb 27

Philadelphia

Feb 28 & Mar 1

Newark, NJ

Feb 29

Denver

Feb 29

Oneonta, NY

Mar 3

Trenton, NJ

Mar 7

New Orleans

Mar 8

Hammond, LA

Mar 12