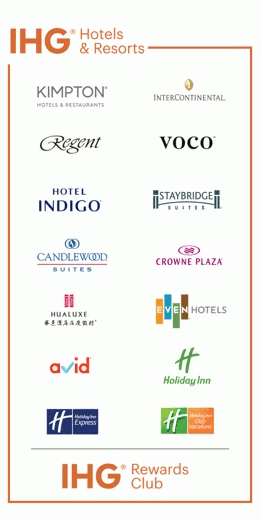 IHG Group (Intercontinental Hotels)
Save when you book at any Intercontinental Hotels Group hotel which includes the Candlewood Suites chain, Crowne Plaza, Holiday Inns, Holiday Inn Express, Intercontinental Hotels, Indigo Hotels & Staybridge Suites.

For the best savings across all hotel booking platforms we recommend you use HOTEL PLANNER to book your reservation. They check all of the sites that we presently offer discounts for - Wyndham Hotels, Hotels.com, Booking.com, Holiday Inns, Marriott, Expedia, Travelocity, Priceline, Trivagao and more. And they always publish the absolutely lowest prices available. You can search by area, by hotel name (or brand/chain name) to make sure you receive the best rates available! And they offer extraordinary results when booking events (reunions, weddings, etc.) where multiple rooms are required.

Save up 30% when you book 21 days in advance at IHG hotels which include:

Even Hotels

Holiday Inn

Holiday Inn Express

Candlewood Suites

Crowne Plaza

Intercontinental Hotels

Staybridge Suites

Hotel Indigo
Book your hotel stay with IHG's Best Price Guarantee or your first night is free!
Find Pet Friendly Hotels around the world at InterContinental Hotels Today!