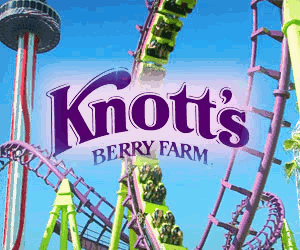 Knott's Berry Farm & Knott's Soak City
Fun is always in season at Knott's Berry Farm! With dozens of rides, shows and attractions in four themed areas, there is something for everyone at Knott's. Splash down the Timber Mountain Log Ride, featuring new scenes, thrills, and special effects. The new Boardwalk area offers three rides for the whole family and Xcelerator, which launches riders 82 miles per hour in less than three seconds! Stroll the streets of the Old West Ghost Town® where you'll meet its many residents – but look out for bandits! Camp Snoopy, home of the PEANUTS gang, will round out your day with pint-sized adventures in a high sierra setting.
Knott's Scary Farm SELECT DATES - SEPTEMBER 16 -OCTOBER 31, 2021.
$45 - save $44 off of the gate price. Click here: https://www.knotts.com/scaryfarmsavings;
Knott's Spooky Farm is a family-friendly alternative to the Knott's Scary Farm, available weekends daytime. Knott's Berry Farm (KBF) daytime tickets get your customers in - no additional admission required.
2021 pricing: Good Any Day admission, $51. Gate Price: Adult $89, JR/SR $89 - you save $38!
Soak City - Sorry, no discounted tickets for Soak City in 2021 due to demand/capacity concerns.
Ages 2 and under are free.