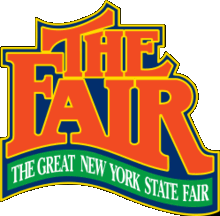 New York State Fair, August 23 - September 4, 2023
2023 pricing
Tickets are $6 per person - good any day of the fair.
Buy a parking pass in advance, $10 for either motorcycles or cars.
Presently, the Fair does not discount its ticket prices.
Children 12 and under and seniors 65 and older are admitted free every day of the Fair.

Wade Shows Ride Armbands - offered online only at presale savings of up to 20% through August 22. Once the fair starts, purchase at the fair for full price.

Note, Wade offers no refunds on pre-purchases and these passes are not transferable. Armbands and wristbands are also NOT suggested for children under 36" as a limited # of rides are available. These armbands and wristbands are valid on all midway rides but not the Broadway Skyliner.
** Special Fair Days
· Fidelis Care Youth & Student Day on August 25, free for those age 18 and under
· Law Enforcement Day on August 29, free for police and corrections officers with ID
· Fire/Rescue Day on August 30, free for active and retired fire or emergency services workers with ID
· Armed Forces Day on September 1, free to current or retired military with ID
· Native American Day on September 2, free for tribal members