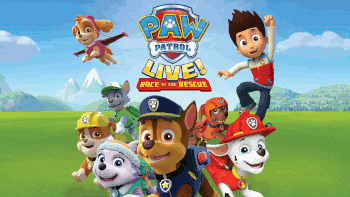 PAW Patrol Live!
It's the day of the Great Adventure Bay Race between Adventure Bay's Mayor Goodway and Foggy Bottom's Mayor Humdinger, but Mayor Goodway is nowhere to be found. PAW Patrol Race to the Rescue! Ryder summons Marshall, Chase, Skye, Rubble, Rocky, Zuma and Everest to rescue Mayor Goodway and to run the race in her place.
Bring your entire family to enjoy Paw Patrol at their hit live show! Our members may purchase discounted tickets for any show nationwide with the online code below but here are dates for a few shows we thought we would specifically call to your attention:
Syracuse, 4 shows, Feb 8 & 9

Binghamton, 3 shows, Feb 10 & 11

Rochester, 4 shows, Feb 14 & 15

Hershey, 4 shows, Feb 22 & 23

Columbus, OH, 5 shows, Apr 3, 4 & 5

Las Vegas, 5 shows, Apr 17, 18, & 19

Cincinnati, 4 shows, Apr 18 & 19
ONLINE:

Tickets are $5 off for all shows nationwide.
When clicking into an event page on Ticketmaster, a pop up window may appear asking how many tickets you would like. If this happens, you need to "SKIP THIS STEP" by clicking that link at the bottom of the pop up window.
Look for and click on the

link near the top of the TicketMaster page (right above the seating chart). You have to enter the code below BEFORE you select tickets to have discounts apply. Make sure you click on the check box next to the offer code to have it accepted. You'll get a message back that tells you if the code has been successfully applied.

Enter the offer code
SAVE5