CASH BACK REWARDS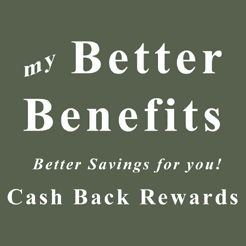 SAFE. SIMPLE. FREE
Over 2,000 online shopping sites - from appliances to travel and everything in between including clothing, pet supplies and more. Muffy (below) saved on her purchases. You can too!
Popular cash back sites include Expedia, Hotels.com, Walmart, Travelocity, Holiday Inn, Home Depot, Best Buy, Accor Hotels, Staples, Priceline, Macy's, Orbitz, Office Depot, Sears, Kohls and over 2,000 more.

To enroll, click on the cash back button above. Sign up or log in on our Benefit Hub website and receive cash back on this and future purchases.

Earn up to 40% cash back on purchases at the stores you love plus unlike other cash back sites, ours features all current deals and coupon offers - updated every day, so you can save on every purchase AND get cash back at the same time.

AND NOW, you can also opt to receive gift

cards through our New Gift Card Outlet.

Much quicker! You will receive the gift card of your choice within minutes by email instead of waiting to receive a check in the mail.

There are over 70 gift card vendors at a discount to choose from, so there's something for everyone.