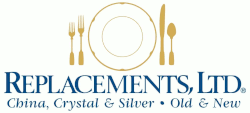 Replacements, Ltd.
China, silver, crystal, watches and estate jewelry. We offer more than 11 million pieces of new and retired dinnerware, crystal, silver, collectibles, and accessories, many in vintage and rare designs you won't find anywhere else. So explore everything we have to offer, and get ready to create a welcoming home that's perfect for both special-occasion entertaining and gathering every day.
Put a little money back in your pocket with this exclusive my Better Benefits promo code. Shop now and get $5 off any purchase of $99 or more with the promo code 5MBB. Limit one per household. Valid through 9/30.

Free shipping every day on orders of $99 or more.

All promo codes are not valid on estate jewelry and watches.