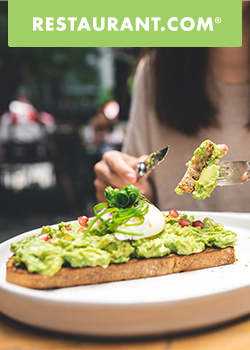 Restaurant.com
You can always save at more than 500,000 restaurant deals nationwide and over 50,000 participating restaurants.
Every day you pay only $5 for a $25 restaurant certificate through Restaurant.com. 50+ restaurants added daily! You can often save more by taking advantage of the specials noted in the links below.
Use your Restaurant.com certificates for takeout and delivery as well as dining in. When you place your order, be sure to mention you have a Restaurant.com Certificate. Don't forget, Restaurant.com Certificates and Cards never expire, so use them now, or save them for later.

Codes above or below will be automatically displayed on the landing page on eligible dates
You'll save this percentage of $25 or sometimes even $10 certificates (that's $2 for a $10 restaurant certificate) when you enter the code you see above. To search for your restaurants, just click on the "more" button at right or on the image at left. This page will stay active on your screen so you can refer back to the code once you're on Restaurant.com's site.
SPECIALS - Dinner & a show! Broadway, NYC Opera & more (including Buffalo, Syracuse & Boston and most major cities in the U.S. including Dallas, Houston, Charlotte, Philadelphia, Pittsburgh, Chicago, Atlanta, New Orleans, LA, San Francisco, San Diego and more). These are all limited quantity packages and subject to prior sale so don't delay in ordering:
Member Deals - plays and productions throughout the U.S. including Broadway (10% discount for mBB)

Restaurant.com (Broadway, Buffalo, Boston, Philadelphia and more)