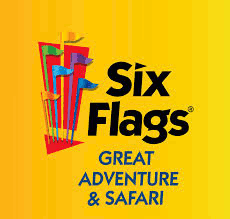 Six Flags Great Adventure & Wild Safari, Jackson, New Jersey
Voted the 2nd best theme park in the country in 2014! More rides than anywhere else! You may know us for our adrenalin-pumping thrill rides. But the fact is, we have just about every kind of ride for every kind of rider.
And your admission to Six Flags Great Adventure also includes admission to Safari Wild Adventure - Bring your car on an authentic safari adventure, where the animals come right up to greet you. This 350-acre wildlife preserve is home to 1,200 animals, including several endangered species. The Wild Safari Exploration Station puts you in the middle of a hands-on Safari adventure. Your child will get up close to exotic animals and enjoy exciting shows and interactive exhibits featuring monkeys, birds, snakes, reptiles and more.
2021 pricing
All of our entertainment venues, with few exceptions, are still working to update their pricing and discount codes for the 2021 season and this venue is no exception. Pricing for last year is posted below as a guide. As soon as we receive the info. on 2021 pricing, you'll find it here and in our NEWSLETTER if you subscribe.
2020 regular season pricing discounts - Reservations Required for 2020
Regular admission Theme Park & Safari admission (ages 3 and above) Good any day through January 3, 2021 $51.99 + tax (Regularly $82.99 + tax at the gate) - you save $31 - now just $38.99 (this price reflects a steep discount due to the delay in opening over COVID-19 and may change at any time so order now.
Hurricane Harbor Water Park ticket - Good any day adult admission $23.99 + tax (Regularly $49.99 at the gate) - you save $12.00.

Online Season passes (begin at just $77.99 for a Gold Combo Pass (regularly $97.99) - over $300 in park discounts, free parking and free admission for friends on select days. Valid through 1/3/2021.

Parking, only $18.76. Save 5.00!
Children 2 and under are free! Discounted meal vouchers & parking passes also available online.
You may order your regularly discounted Six Flags Great Adventure & Wild Safari and Hurricane Harbor tickets online and print them out right on the spot.

User name myBetterBenefits
Password SixFlags1
User name and password are both case sensitive