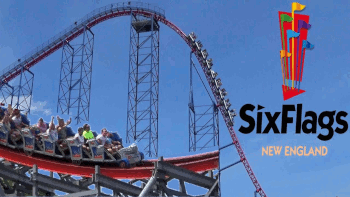 Six Flags New England, Springfield, MA
Featuring the Galactic Attack Virtual Reality Coaster. Be sure to experience the NEW virtual reality experience on Mind Eraser, the park's iconic steel coaster. We're celebrating two+ decades of Mind Eraser's this season!
Get ready for Rougarou -the coaster that feeds on screams! Bonzai Pipelines– Plunge down six outrageously fast and furious drop-hatch looping body slides. Are you ready? 3-2-1- DROP! Four themed children's areas including Kidzopolis, Looney Tunes Movie Town, Whistlestop Park, and Splash Island. Ride one of the best coasters on the planet, Bizarro! Hurricane Harbor, which opens Memorial Day weekend, is FREE with paid attendance.
2021 pricing
2021 season discounted ticket information
Good-Any-Day ticket, $38.99. A $32.00 savings! Note that on weekdays, you might find it less expensive to purchase here.
Order your discounted Six Flags New England tickets online and print them out right on the spot (or show on your phone).

User name MBB2
Password SixFlags9
User name and password are both case sensitive
We've seen some issues with members have difficulty getting their purchase to process using Six Flag's new link above. If that happens with you, try this older link, user name and password.

User name
MBB
Password
sixflags2
User name and password are both case sensitive