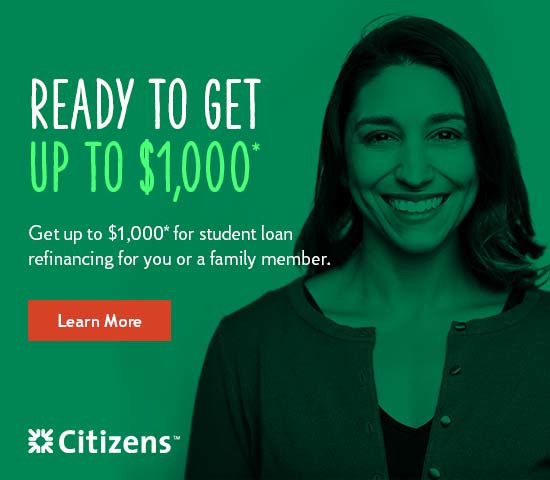 Citizens
As a leader in student lending with more than 40 years' experience, Citizens helps families fund the college dream or refinance education loans. Whether you're looking to lower your student loan rates, lower your monthly payment or pay off your loans faster, this program could help make paying for school easier and more affordable.
As a My Better Benefits member, you or a family member are eligible to receive a principal credit reduction for 1% of your loan amount up to $10001 on an Education Refinance Loan, an Education Refinance Loan for Parents or a Medical Residency Education Refinance Loan.

In addition members could save up to 0.50% interest rate reduction with Loyalty and Automatic Payment discounts.2
With no application, origination or disbursement or pre-payment penalty fees, the Citizens Education Refinance Loan program could help you to:
Lower your monthly payment to put more money back in your monthly budget

Lower your interest rate if you're paying higher rates on old student loans

Pay off your loans faster by paying more towards your principal balance

Lock in a fixed-rate loan
Members could see their rate and potential savings in minutes, with no impact to their credit score.3
Student Lending Specialists at Citizens are available to talk with you about your specific circumstances and existing loans.
For more information on this benefit and to apply click here

When is the right time to refi?
Private student loan refinance rates are still low. Depending on your unique financial situation, it might be a good idea to review your student loans and consider your options.

Whether you have federal student loans, private student loans or both, consider refinancing part or all of your student loan debt. We recommend that all borrowers with federal student loan debt carefully consider their options before refinancing with a private student loan.

If you have private student loans in your portfolio, you might consider refinancing those now to take advantage of today's low rates. For more details and to apply, please select the Apply Now button below or call 1-888-411-2389 to speak with a Citizens Student Lending Advisor who is dedicated to helping you find solutions tailored to your needs.

1 To qualify for the principal balance reduction, the borrower or co-signer (if applicable) must have applied, be approved, and disburse a Citizens Education Refinance Loan, Education Refinance Loan for Parents, Student Loan, Student Loan for Parents, Bar Study Loan, or Medical Residency Loan through the employer's or partner's dedicated Citizens website. The principal balance reduction will be calculated as 1% of the amount financed with a maximum of $1,000 for the Education Refinance Loan and Education Refinance Loan for Parents, a minimum of $50/maximum of $500 for the Student Loan or Student Loan for Parents, a minimum of $50/maximum of $160 for the Bar Study Loan, and a minimum of $50/maximum of $200 for the Medical Residency Loan. The loan must be in good standing at the time the Principal Balance Reduction Benefit is applied. Only one Principal Balance Reduction Benefit is allowed per primary borrower for the Citizens Education Refinance Loan and Education Refinance Loan for Parents or per loan for the Citizens Student Loan, Student Loan for Parents, Bar Study Loan, and the Medical Residency Loan. Principal balance reduction will be applied with an effective date equal to the loan's first disbursement date. Principal balance reduction may take up to the second month following the loan's final disbursement date to be applied and may be reduced if the loan amount is reduced or cancelled. The Principal Balance Reduction Benefit will be processed as a reduction of the loan's principal balance and will not impact the required monthly payment. The borrower is solely responsible for any taxes that may be owed as a result of the principal balance reduction earned. A tax advisor should be consulted. Citizens Bank, N.A. does not provide tax advice. Offer cannot be combined with other promotions, discounts or offers – automatic payment and loyalty discounts excluded. Citizens reserves the right to modify these terms or cancel this offer at any point in the future for new applications.
2 Loyalty Discount Disclosure: The borrower will be eligible for a 0.25 percentage point interest rate reduction on their loan if the borrower or their co-signer (if applicable) has a qualifying account in existence with us at the time the borrower and their co-signer (if applicable) have submitted a completed application authorizing us to review their credit request for the loan. The following are qualifying accounts: any checking account, savings account, money market account, certificate of deposit, automobile loan, home equity loan, home equity line of credit, mortgage, credit card account, or other student loans owned by Citizens Bank, N.A. Please note, our checking and savings account options are only available in the following states: CT, DE, MA, MI, NH, NJ, NY, OH, PA, RI, and VT and some products may have an associated cost. This discount will be reflected in the interest rate disclosed in the Loan Approval Disclosure that will be provided to the borrower once the loan is approved. Limit of one Loyalty Discount per loan and discount will not be applied to prior loans. The Loyalty Discount will remain in effect for the life of the loan.
Automatic Payment Discount Disclosure: Borrowers will be eligible to receive a 0.25 percentage point interest rate reduction on their student loans owned by Citizens Bank, N.A. during such time as payments are required to be made and our loan servicer is authorized to automatically deduct payments each month from any bank account the borrower designates. Discount is not available when payments are not due, such as during forbearance. If our loan servicer is unable to successfully withdraw the automatic deductions from the designated account three or more times within any 12-month period, the borrower will no longer be eligible for this discount.
3 Get Started: Get my RATE: Selecting "Get Started" only requires a "soft credit pull" which does not affect your credit score. Submitting a full application will result in an inquiry on your credit report.
Wireless Charges: Wireless carrier, text, and/or data charges may apply.

Copyright 2022 Citizens Financial Group, Inc. All rights reserved.

Citizens is a brand name of Citizens Bank, N.A.