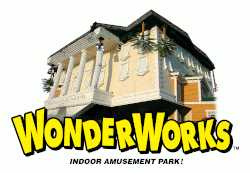 WonderWorks - Destiny USA Mall, Syracuse
WonderWorks is an amusement park for the mind with 40,000 square feet of "edu-tainment". The attraction combines education and entertainment with more than 100 hands on exhibits that challenge the mind and spark the imagination. This once top-secret laboratory was located in the Bermuda triangle. An experiment gone awry lifted the laboratory carrying it to Destiny USA in Syracuse where it landed upside down. Luckily, all of the exhibits remained intact and available for guests to explore.
With the ceiling under your feet and the ground above your head, it's impossible not to see the magic inside WonderWorks. Pass through the inversion tunnel to realign yourself and start your adventure. Inside you'll find six wonder zones for loads of family fun. Compete against opponents in a fast-paced Laser-Tag battle in a black-lit maze, little ones have a blast at Sky Tykes – a unique ropes course for small children – and experience the thrill of our 4D Extreme Motion Ride XD Theater!
YOUR mBB Discount
Save 25% on all WonderWorks tickets and/or $25 off a birthday package with your my Better Benefits discount! Purchase your tickets online for maximum convenience (below) OR present your mBB ID card upon entry

To purchase WonderWorks tickets online click on the "buy now" button below:

Coupon code MBB

Ages 3 and under are free (excluding SkyTkes)