Special Offers
While they last, we have a limited # of gift certificates available for each show in the main stage season (Hair, Thurgood, Hard Cell, The Humans, Native Gardens, and Revival: The Resurrection of Son House.
Each certificate is good for 2 seats to section A, B, or C seats (excludes regular $54 section A -prime seating) during the first week's run of any show. These seats are regularly up to $44 each. Each certificate is good for 2-tickets and priced 50% off - only $44 per certificate. That's 2 seats for $22 each! We will email you your certificates upon order completion.
Certificates may be gifted but not resold. *Please note any restrictions below. Certificates for "Hair," "Thurgood," and "A Christmas Carol" sold out quickly so don't delay if you have interest! Look here to purchase now. Note, some shows have already sold out. Don't delay in ordering and have to pay more!
Hard Cell 8 performances. Tuesday, January 8 through Saturday, January 13. 50% off - just $44 for a gift certificate for 2 non Section A-prime seats.

The Humans 8 performances. Tuesday, February 19 through Saturday, February 24. 50% off - just $44 for a gift certificate for 2 non Section A-prime seats.

Native Gardens 8 performances. Tuesday, March 26 through Saturday, March 31. 50% off - just $44 for a gift certificate for 2 non Section A-prime seats.

HAIR - SOLD OUT

Thurgood - SOLD OUT

A Christmas Carol - SOLD OUT

Revival: The Resurrection of Son House - SOLD OUT

*Advanced reservations are required. Excludes section A-Prime seating (regular $54 tickets). Each certificate is good for a specific show. Each certificate is good for 2 tickets. Tickets will be made available at Will Call 2 hours before a scheduled performance. Tickets are not exchangeable and will not be reissued for a missed performance.
2018 - 2019 Wilson Stage - Ongoing mBB discounts
Geva is proud to provide exclusive discounts for mBB members. You now enjoy a bigger discount right at the Box Office but only for the first few weeks of any show's run.
mBB members save up to 25% off regular ticket pricing on Geva Theatre Center's Wilson Stage Season productions (excludes Section C tickets).
Save 25% on First Week Preview performances. Tue/Wed/Thu/Fri/Sat Matinee/Sunday Matinee/Sunday Eve (excludes Saturday evening)

Save 15% on all Second Week performances!

PRIOR SALES EXCLUDED

$25 section C tickets are available for most performances for all dates at the Box Office or by phone only.
Special Pricing for A Christmas Carol:
25% off the first week's performances and Tuesday, Wednesday, and Thursday of the second week's shows (11/29 - 12/6). No discounts available in Section C seating.

15% off Fridays, Saturdays, and Sundays of the second week's performances, (12/7 - 12/9). No discounts available in Section C seating.

50% off all post-Christmas performances, 12/26 - 12/29). No discounts available in Section C seating.
These discounts are available for purchase at the Geva Theatre Center Box Office. Call and supply your mBB member number, 585-232-GEVA (4382), or stop in and show your mBB ID card at the Box Office, 75 Woodbury Blvd., Rochester.
Click here for list of the current season's play schedule.

2018 - 2019 Fielding Stage
$5 all first week's performances

PRIOR SALES EXCLUDED. Click here for a list of the current Fielding Stage schedule.
For more information contact the Box Office at, Geva Theatre Center, 75 Woodbury Blvd., Rochester, NY 14607 Telephone: (585) 232-4382.
Box Office hours are Tuesday - Friday: Noon - 8:00 PM, Saturday: Noon - 8:30 PM, Sunday: Noon – 7 PM. On non-performance days the box office closes at 6pm and is closed on Sundays. Geva is closed on Mondays.
2018 - 2019 Wilson Stage Season
Hair September 4 - October 7
Musical
The original love-rock musical celebrates the 60s with songs like "Aquarius;" "Good Morning, Starshine;" and "Let the Sun Shine In."
Claude, Berger, and their friends balance their bohemian lives and the sexual revolution with their rebellion against the Vietnam War and their parents.
It's the summer of love in all its barefoot, long haired, bell-bottomed, beaded and fringed glory.
Thurgood October 16 - November 18
Drama
The inspiring story of the first African-American to sit on the Supreme Court of the United States.
Thurgood spans the impressive 58-year career of Justice Thurgood Marshall, from his early days as the civil right lawyer arguing the landmark case of Brown vs. Board of Education, to the end of institutional segregation in 1954, and his appointment to the highest court in the land.
Hard Cell January 8 - February 3
World Premiere Comedy
A madcap new comedy of errors and mistaken identity. When college professor Nick Abtahi finds himself lost in a small, one-horse Midwestern town, the welcome mat doesn't exactly get rolled out by its crazy collection of locals.
This laugh out loud comedy makes its world premiere at Geva.
The Humans February 19 - March 17
Drama/Comedy - winner of 4 Tony Awards
Winner of four 2016 Tony Awards including 'Best Play.'
As the Blake family gathers for Thanksgiving in a tiny apartment, indignities flare up and tensions reach a boiling point over the turkey, stuffing and mashed potatoes.
This funny and heart-tugging play was the toast of Broadway two seasons ago.
Native Gardens April 3 - 29
Comedy
From the playwright of The Book Club Play, comes a brilliant new comedy redefining what it means to "be neighborly."
A disagreement over a property line becomes a war of green thumbs for neighbors, spinning out of proportion with hilarious results.
Revival: The Resurrection of Son House May 1 - June 2
World Premiere
Revival brings blues legend Son House back to life on the Geva stage. From his beginnings in rural Mississippi, through personal crises and his relatively obscure life in Rochester, to the stunning rebirth of his career in 1964.
A celebration of the musical legacy of the man who inspired generations of blues artists from B.B. King, Eric Clapton, and Bonnie Raitt, to Susan Tedeschi, Joe Bonamassa, and Jack White.
2018 - 2018 Fielding Stage Season
Fortune October 4 - October 21
Comedy
A new romantic comedy about finding love, whether it's in the cards (or not).
Maude is a 30-something storefront psychic who has given up on love.
When Jeremy, a downhearted, love-hungry accountant, stumbles into her shop, she wrestles with fate and destiny.
The Magician's Daughter January 29 - February 10
World Premiere
Inspired by Shakespeare's THE TEMPEST, this play is magical.
The magician Prospero and his daughter Miranda dazzle and delight until the day Miranda quits. A rift grows between them as Miranda searches for the courage to let her father know how his addiction has affected her life.
What she doesn't expect is to learn how much she loves him.
The Royale April 11 - April 28
Drama
Get your ringside seats for this electrifying drama that packs an unforgettable punch.
Boxer Jay "The Sport" Jackson wants to be the undisputed heavyweight champion of the world. But it's 1905 and in racially segregated Jim Crow America, his chances are about as good as getting knocked out.
From the award-winning writer of "Orange is the New Black" and "Sons of Anarchy."
SPECIAL PERFORMANCES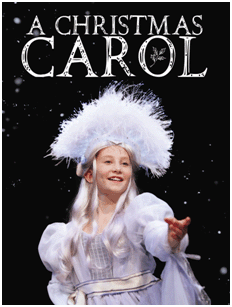 A Christmas Carol November 29 - December 29
A Rochester Classic - on the Wilson Stage
Erma Bombeck: At Wit's End March 12 - March 31
Comedy - on the Fielding Stage
Erma Bombeck, one of our country's most beloved humorists, captured the frustrations of her generation by asking, "If life is a bowl of cherries, what am I doing in the pits?" Starring "Suburban Outlaw" and columnist Pam Sherman, this is the story behind America's favorite average housewife who championed the lives of women with an incomparable wit that sprang from the most unexpected place of all — the truth.