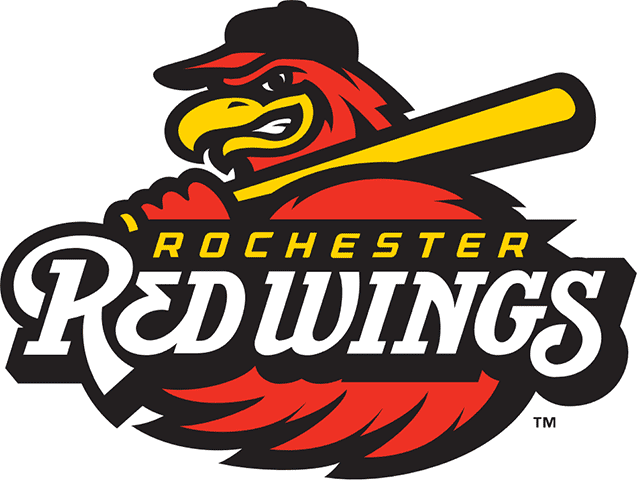 Rochester Red Wings
2021 pricing
From the Wings March 23, 2021:
"What we can say is that with us dealing with limited capacity for the 2021 season, our pricing will be higher than in a normal season, which will not allow us to sell discounted voucher books. Those fans that had 2020 voucher books will be able to use their vouchers for 2021, but would need to pay the difference to get to the 2021 pricing. Essentially, we aren't in a position to offer discounted pricing in 2021."
While we are of course disappointed that we won't be able to offer our members discounted Wings tickets (at cost) as we did in past years, we're glad the Wings are back in 2021. We do have a limited # of 2020 vouchers that we will make available to members at steeply discounted amounts once the prices are finalized for 2021 so stay tuned. If you're interested in those vouchers, you can contact us via email and we'll notify you first of their availability once we have more details.
From the Wings April 13, 2021:
The Red Wings announced 2021 tickets go on sale May 10. Detailed info. here.
Prices have increased for 2021 (expected to return to normal (nearer 2019 levels) in 2022. 200 level tickets are $15 in advance ($17 game day) and $100 level tickets are $20 in advance ($22 game day). That's about 90% higher than 2019/2020.
If you have ticket vouchers for 2021, you have two options:
Option 1: You can apply them to the purchase of tickets in 2021. Vouchers hold the same value as noted below. You may exchange them AT THE BOX office for the difference in price for any 2021 game.

Option 2: 2020 ticket vouchers can be used as an even exchange for any game in 2022 (no upcharge regardless of any 2022 ticket price increase).
2020 Regular Season Pricing
The Red Wings issue discounted ticket vouchers that may be exchanged at the box office for any available seat in the price range. They are good for every regular season home game including the home opener. Savings vary from 11% to 18% per ticket depending upon ticket type. These vouchers must be obtained in advance, either from the mBB office or your mBB Rep at work if your company participates in the consignment ticket program. You always save $2.25 per ticket.
Premium Seats, $11.75 (regularly $13.00 in advance, $14.00 day of game)

Upper Box Seats, $9.75 (regularly $11.00 in advance, $12.00 day of game)

Reserved Seats, $7.75 (regularly $8.75 in advance, $9.75 day of game)
Children ages 3 and under do not require a ticket but they must sit on your lap. If you want your child to have their own seat, then you must purchase a ticket for them.
Order these tickets by mail, online through our web store, or request a pickup from our offices (HINT: Ordering online incurs additional handling charges (credit card fee recapture) that you do NOT pay when you order by mail or request a pickup from our offices. As with movie tickets, we levy NO S & H fees on Red Wings tickets purchased by mail or pickup.
Reserved tickets may be upgraded to premium seats for an additional $4 at the box office (you again save $2.25). Reserved vouchers may also be upgraded to Upper Box seats for an additional $2.50 Upper Box tickets may also be upgraded to Premium seats at the box office for an additional $1.50 (and again, you save $2.25 on the total purchase price.

To obtain your tickets:
Obtain your Red Wings discount coupons from your mBB Rep at work or directly from the mBB office. If ordering from the mBB office, we STRONGLY urge you to order these tickets by mail rather online as the S & H fees added online will somewhat reduce the discount. Coupons ordered by mail or picked up at our offices incur NO shipping & handling charges.
Mail Order

(No S & H fees on mail orders)

(30 min. or more notification required, click on the image to send us a request)

Order online
Note that you pay NO shipping and handling charges on Red Wings tickets ordered by mail OR when you pick them up from our offices.