SAVINGS BY POPULAR CITIES & SELECT GEOGRAPHIC REGIONS
Flowers, Chocolates, & Gift Baskets
Flowers and gift baskets are always perfect for corporate as well as personal gift giving.
1800Flowers

Save 20% on flowers and gifts

FTD

Get 25% off FTD flowers and gifts
Teleflora

Your BEST deal - 25% off all flowers & gifts

1800Baskets

20% off on all gift baskets
Gourmet Gift Baskets

10% off sitewide for gift baskets for all occasions and corporate giving

From You Flowers

20% off on all gift baskets
ProFlowers

15% to 25% off sitewide

Florists.com

20% off on all flowers and gifts
Old Time Candy

10% to 15% off candy you ate as a kid

Cheryl's

15% off on delicious goodies
Harry & David

15% off delectable treats

Edible Arrangements

$10 off orders of $59 or more
Fish's Farm Markets

10% off at Fish's Farm greenhouses and roadside stands

Fruit Bouquets

15% off sitewide
The Popcorn Factory

10% off delicious popcorn

Community Supported Agriculture

$25 off full or partial CSA shares
Cookies by Design

10% to 20% off creative cookies & desserts

Cheesecake.com

10% off the entire sweet site
Omaha Steaks

Save up to 61% plus free shipping

Shari's Berries

10% off delicious chocolate covered berries
[includes/profile_updates/1stopflorist.htm]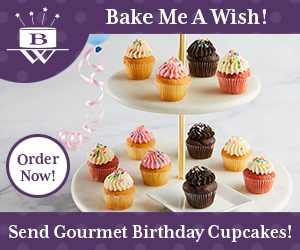 Bake Me A Wish - Gourmet gift & birthday cakes
Our gourmet gift cakes, baked exclusively in our award-winning New York bakery, can be sent nationwide and are guaranteed to arrive on the date you request. Each cake delivery online arrives in an elegant gift box and includes a greeting card on which you can provide a personal message to your recipient. With a variety of occasions to choose from, you can make your loved one's next birthday, anniversary, holiday or event an occasion to remember by sending a gourmet cake from Bake Me A Wish!
Cyber Monday special offer. Valid 11/30 only. 30% off the entire site with the code SWEETDEALS

15% Off All Gifts with the Code: SNOWFLAKE Valid through 1/2/201. Click on the "buy now" button below to use this code.

Delicious Cakes, Birthday Cakes, Cupcakes and Cookies!

Use code See above
Email us if you require an updated code.
Cheesecake.com
A little happiness through the mail! You can send cheesecake to just about anyone. You can't go wrong with the classic New York style cheesecake. We also carry unique flavors like the Crème Brulee cheesecake. If you aren't sure what their favorite flavor is, the Cheesecake Sampler is the best choice for cheesecake gifts. The Turtle Cheesecake is always a crowd pleaser and has an excellent presentation, a great gift for that important client. Our cheesecakes online also make a great birthday gift, who wouldn't want to receive a delicious gourmet cheesecake for their birthday. Cheesecake.com is a member of the Gourmet Gift Baskets family.

code BETTER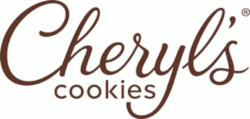 Cheryl's - Gourmet Cookie Gifts
Based in Columbus, OH, Cheryl's specializes in offering gourmet cookies, brownies, cakes and fancy cookies, including seasonal cut-out cookies topped with a signature butter cream frosting. Cheryl's also offers seasonal offerings with gift ideas for every occasion and has a customer-focused business gift department to better serve medium and large companies.
Save 15% on a variety of great fresh-baked gourmet cookies, brownies, cakes as well as Mrs. Beasley's Gift Baskets and more, at Cheryls.com. Promo Code TAKE15. Click on the "buy now" button to apply this code.

Save $5 off any order at Cheryls.com! Use Promo Code: SWEET5

Use Code FRSHIP for free shipping on any order.

Promo Code TAKE15
or SWEET5
Give a gift that tastes as good as it looks with cookie bouquets for any event! Celebrating 30 Years. For Any & All Occassions. Same Day Hand-Delivery. Types: Fresh Cookie Bouquets, Cookie Gift Baskets, Cookie Cakes, Gourmet Cookie Delivery, Birthday Cookie Baskets.

coupon codes
see above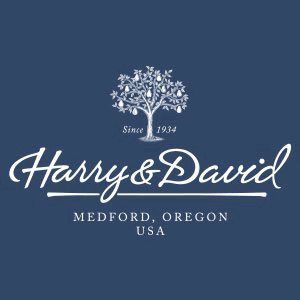 Harry & David
Gourmet treats and of course the fruit-of-the-month club.
Gift baskets, chocolates and treats, gourmet food and wine, and special treats for holidays.

Promo Code HD15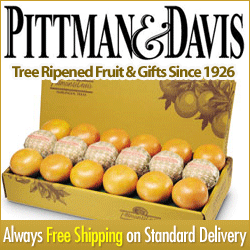 Pittman & Davis
Pittman and Davis is a family owned company based in Texas that's been in business for over 80 years, specializing in the delivery of wonderfully orchard fresh fruit, smoked meats, cheeses, pastries, candies and other scrumptious gift food items.
Gift baskets, chocolates, candies, nuts, treats, gourmet food, and special treats for holidays. Fruit of the month clubs available.
Always free shipping!

Mixed Fruit Medley: 6 Ruby Gems, 8 Tiny Tim Navels, 4 Snack-size Fuji Apples. 20% off, only $19.99 + free shipping. That's a lot of fruit for $20 bucks!

Ongoing offers updated weekly. Click on the "buy now" button below.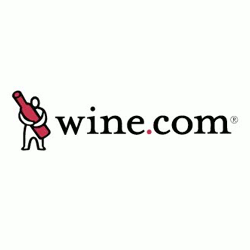 Wine.com
Seriously passionate about wine! You may use just ONE of the coupon codes below if more than one is listed. The Buy Now button will take you to a page with discounts of 30% or more on wines. These codes change very frequently so email us for new ones if the ones below are dated.
The following offers are valid for the current month of November:

Code: see above
There are often additional $ off coupons featured each month. Just click on the button above
Featuring Local Pickup: Local Pickup is the most convenient way to get your Wine.com order. We'll ship it to one of 10,000 participating locations where you can pick it up on your schedule.
We've expanded beyond FedEx Office locations to include Walgreens, Duane Reade, Safeway, Shaws, Jewel-Osco, Albertsons, Fred Meyer and more. Most pickup locations are open nights and weekends with many offering 24/7 availability.
Plants, flowers, and items for the great outdoors.
Save anywhere from 5 to 50% on your purchases from these online retailers of items for the garden and the outside of your home.